originial posted at Forum.CarveWright.com by Dhaffner - awesome job Doug
First off, this 3D model comes from the google 3D warehouse. Credit listed as "birdman"...the model is the M6G pistol. It's a non-existent weapon from the game Halo.
I had a little blow-out on the rear of the gun detailing, but not bad considering the scale and wood choice (aspen..a pine variety?) That stuff is fuzzy! I'm going to enlarge it just a hair and try it in a little more dense wood with less fuzz.
But in the meantime, here it is...
details: each section is about 9" long. It took 3:47:00 to carve.
I love this application. Seriously.
I'll post another pic when the glue dries and I get it sanded.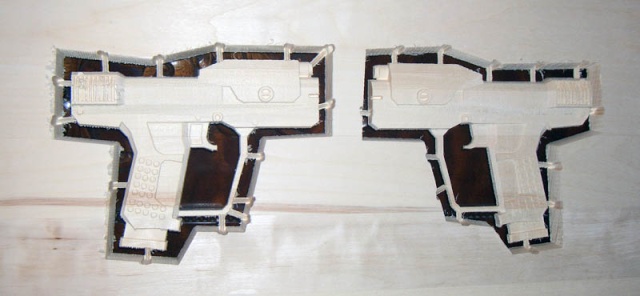 Good questions....
The tabs are added manually (which rocks because I can put them in the least annoying spots. There is a carve region around the objects, which is set to pierce...so the machine carves out all the open spaces. Here are a couple shots with it glued up. The manual tabs addition was fantastic, by the way. Way to go LHR!
Doug